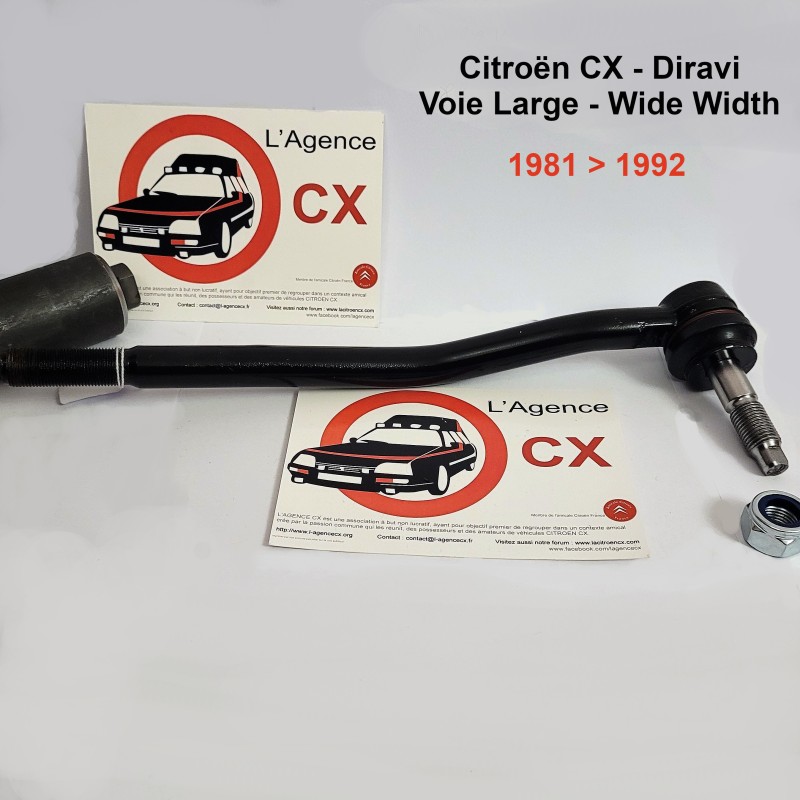  
Steering rods for Citroën CX 1981 - 1991 "wide width" Diravi steering
Tie rods for DIRAVI powered steered "wide width" Citroën CX  1981 > 1991.
New parts - production handled by l'Agence CX.
OEM quality
To be assembled with 108 mm DIRAVI rod ball joints

Nylstop screw included
DIRAVI ball joints sold separatelly
Diameter : 16 mm
Length : 290 mm
Benefits :
- easy fitting
- thicker dust cover : increased life span
- black paint finish, similar to original
Practical advices
- always ensure of your parallelism after steering rods change
- mount new Diravi steering ball joints
Similar to part n° 
Quantity 1 = 1 pair of steering rods Left + Right

Tous nos articles sont conformes à la législation en vigueur et sont garantis "bonnes affaires"

Politique de livraison : les colis sont préparés à la main, par le Président lui-même (ou par les membres du Bureau)

Politique retours : pas de retours, car satisfaction totale au 1er envoie ;)
Shipping expected around June 15th approx.
Payment only by bank transfer, specifying your order reference (9 letters code).
Goods are shipped once payment received, thank you.
New parts, similar to original. Made in France
Parts sold by pair : 2 parts ; for the cart, Quantity 1 = 1 pair Left + Right
L'Agence CX members are kindly requested to use their forum inscription email address
Customers who bought this product also bought: